This man has been mum for 3 years. He conveniently ignores the media, never speaks up and is a mere illusion, as I have said before. Finally after 3 years, he decided to speak to the media and held a public press conference.
There was much hype around this surprise (who expected him to speak at the end of his 'ten-ure') press conference and everybody was terming it as his "farewell" press conference. The media was expecting something like this : "My first term was good, my second term was not so good, I want Rahul Gandhi to be the PM, I am out of the race." 
There were high expectations and just like Rahul Gandhi, even MMS failed to deliver. His speech was much like a student complaining about an "out of a syllabus" question. Totally different from the media expectations, our PM said something like this : "Modi is a murderer, people do not care for corruption and thus they voted me back to power, I have spoken a lot, Rahul Gandhi is incredible"
Let's have a point by point analysis of the PM's speech-cum-press-conference-cum-excuses.
1) The Rural India Development Question. 
"In 2004 I committed my government to what I said would be "A New Deal for Rural India". I believe we have delivered on that promise very substantially. We followed farmer friendly policies including raising support prices for farmers, expanding credit to farmers, and through increased investment in horticulture, in rural development, and rural infrastructure, especially roads and electricity. These initiatives have ensured that agricultural GDP has grown faster than earlier." 
The Prime Minister offered no explanation on the lack of rural development, slowing agricultural growth rates and farmer suicides. He instead played these issues down and said that our rural sector has experienced phenomenal growth under the UPA regime. Most of our politicians have always maintained that there exist two India's – Bharat and India. Bharat is the rural India whereas India is the urban cities and towns. Rural India has not yet experienced the effects of the post 1991 Growth and has lagged behind than India.
3) Education
"Education has been a key element of our strategy to increase the productive capacity of our economy and improve access to better jobs. I have myself been a beneficiary of liberal scholarships and public investment in education. I can, therefore, well understand the critical importance of investing in education. I take great pride in the fact that we have transformed the education landscape of our country."
Sir, which country are you talking about? The Indian Education System is not improving at all. Private schools are still a little better, but out Public Education System has let us down. Last year, we had a big episode on child deaths due to Mid-Day meal schemes. The quality of rural education is quite low and we still have gender disparities. I wonder if our PM has 'transformed the education landscape' of Italy, because he surely hasn't transformed the education landscape of India.
4) Parliament and Legislation
"I also feel satisfied with our legislative effort. Despite unprecedented parliamentary holdups, we have passed several important laws that seek to empower our people and our democratic institutions"
Is our Prime Minister even aware of the facts? The Parliament sessions in the last 3 years have been the most disruptive Parliament sessions India has ever witnessed. Except for the 'populist legislations', hardly any strong laws have been passed. This has forced the Supreme Court to interfere in the law making process and give landmark judgements on law and order. We still have many legislations to be passed, like the Whistleblower bill and the Citizen Charter Bill. When will all these be passed sir? It would have been better if you would have given us an explanation on these and not speaking about how "well" you have performed in the Parliament.
5) Economy – The Reason Why He Is Sitting in the Chair.
" I do not wish to elaborate on our achievements in the economic arena. There are however three points which I would like to mention. First, I am concerned that we have not been as successful as we need to be in generating employment in the manufacturing sector. This is an aspect of performance which we are working hard to correct."
Finally, he did admit that something went wrong. And, for the first time in his speech, he was right. The unemployment in India is on a steady rise, especially in the rural sector. The manufacturing sector is the worst hit from the Indian Economic Crisis of 2012-13 and needs a big boost to come back on its footing. And the PM did admit that in his speech.
"Second, we have also not been as successful in controlling persistent inflation as we would have wished. However, we should remember that our inclusive policies have put more money in the hands of the weaker sections. To keep food prices in control we need to increase supplies and also improve marketing arrangements and logistics. Much of this work lies in the domain of the States. I am happy to say that the Food Security Act that we have passed will to some extent shield the common man from rising food prices. The worry about inflation is legitimate but we should also recognize that incomes for most people have increased faster than inflation."
Nobody understood what the PM was trying to say here. He did admit inflation is a problem but he goes on to say that it does not affect the common man as the common man's wage has risen. Nobody expects such a bizarre logic from an Economist Prime Minister. After saying about the non effect of inflation, he then passes the buck on to the States and then praises the Centre for the Food Security Bill. Clueless? Even we are.
"Third, we are deeply committed to the objective of combating corruption. There is much public concern on high profile allegations of corruption, notably in regard to 2G spectrum allocations, coal block allocations and cases related to land. Where some decisions taken earlier, when allocations were made administratively, have come under question, they are being investigated. Any wrong doing will be punished through due process of law. Land issues are in the domain of state governments and we have consistently advised state governments to ensure transparency in these cases."
He does admit corruption is a problem but offers no solution. When asked on the issue of corruption in the Q&A session, just like inflation and employment, he also downplays the issue of corruption and says that the common man is paying no heed to corruption. He says that the people gave him a mandate in 2009 which shows that corruption does not matter. Sir, do you even know that the allegations of corruption started surfacing in late 2009 and early 2010? I hoped you would have been a little more sensitive towards the issue of corruption, which hurts the common Indian the most.
6) Mandate 2014 : Rahul vs Modi , Congress vs BJP
"Rahul Gandhi has outstanding credentials to be nominated as the Presidential (He meant Prime Ministerial) candidate. I hope our party will take that decision at the appropriate time. And without discussing the merits of Mr. Narendra Modi, it will be disastrous for the country to have Shri Narendra Modi as the Prime Minister. I sincerely think that Narendra Modi's dream to become the country's PM will not come true. I truly think that someone who presided over massacre of citizens on the streets of Ahmedabad shouldn't be the PM."
In the entire 2 hour conference, the only headline grabbing line was this line about Mr. Modi. He tried to attack Mr. Modi and raked up the much debated 2002 issue again despite the recent Metropolitan court verdict which gave him a clean chit. The words he used were a little harsh, but what more can you expect from a Congressman? He also goes on to say that Mr. Gandhi has 'outstanding credentials to be nominated as the Presidential candidate'. I agree. Please make him the President so that he has no executive authority.
Our Prime Minister downplayed the UPA performance by saying that the opposition has blown things out of proportion and the media has played into the opposition's trap. He also said that History will be kinder to him. That's some confidence sir but why exactly will it be kind? It will be kind to you because you led the most corrupt government of all times, even if you were not 'that corrupt'? It will be kind to you because you never took the moral responsibility of the deeds of your corrupted colleagues? It will be kind to you because you preferred populist schemes over the real ones and the country went through an economic turmoil, even though your considered as one of India's greatest economists? It will be kind to you because Pakistan violated ceasefires, Italian marines shot fishermen and went home, China intruded into our territories, illegal immigrants from Bangladesh wreaked havoc and even Myanmar set up camps and you did absolutely nothing? It will be kind to you for playing a puppet in the hands of 'The Family'? It will be kind to you because you held the fort for the prince? It will be kind to you for keeping mum on issues of national and international importance? It will be kind to you for inflation and corruption?
But sir, there is one thing for which history will always be kind to you. You inspired lots of aimless people like me to come up in numbers and vent their frustration out and channelize their anger. You succeeded. You united us.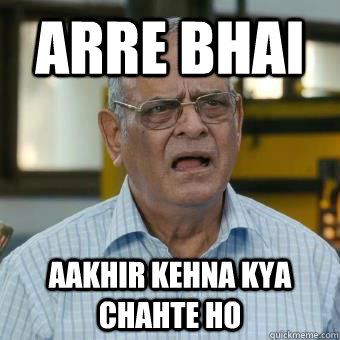 Thank you for reading. Please give your opinion in the comments section below or feel free to get in touch with me at tanay.chothani@beingpolitical-com.mwpsites-a.net