A year can be almost an eternity in a country like India.
Last December, there was a sense of doom and gloom around us. Angry citizens had taken to the streets in protest against the gang rape of the Delhi brave-heart and the issue of women safety and security; the political class had lost credibility in a series of scams; the economy appeared to be on a downward spiral; and yes, even the Indian cricket team had just suffered a huge home loss to England.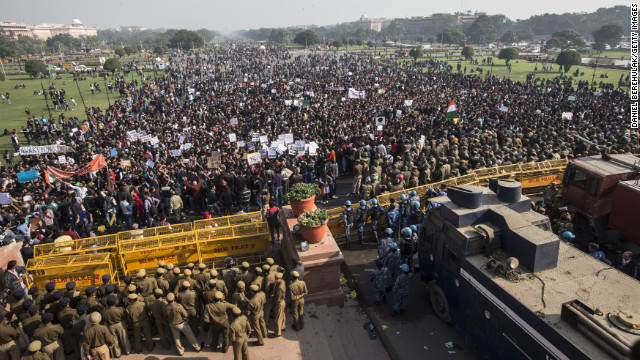 A year later, we don't quite smell roses, but there is a distinct change in the air. The same politicians who had fought to prevent the Lokpal bill from being passed have now united to push the anti corruption legislation through with an almost unanimous voice. The new political party, AAP, has shown that it is possible to 'sweep' to power with a unique political model that is designed to break the traditional party system and with a strong social media campaign. A strong anti-rape law is in place which has given the Indian woman a sense of genuine empowerment. Inflation may still be hurting, but there are signs that the economy maybe on a gradual path to recovery. A plentiful monsoon has ensured that the granaries are full and the Sensex has touched new highs. India defeated the Windies and almost drew a series with the South Africans. Wow, we surely did change in a year, and for the better indeed.
2013 – a year which we thought would go down as annus horribilis — hasn't been so bad after all. And the good news is that 2014 maybe even better. Even given the penchant for hyperbole in the media, there is a sense that we are heading for a watershed election this year. Narendra Modi may have set the terms of the discourse with his macho nationalism and strong political activism and political jibes. His pro-development and anti-Congress image has appealed to the youth and his rallies are filled with lakhs and lakhs of people waiting to hear those punchlines in his speech while the intelligentsia wait for the ideas and policies hidden between those political punchlines. He has now given a new slogan to the Indian Post-Independence Political Arena – Sabka Saath Sabka Vikas, and has given a universal "Vote for India' appeal. Modi knows he has to reinvent himself, discard the baggage of the 2002 riots and make himself more acceptable to a plural, diverse India to win power. That he is making the effort to transform himself from a sangh parivar posterboy to an ambassador of good governance and the messiah of India's youth is itself the first positive sign.
On the other hand, the Congress heir to the throne, Rahul Gandhi too, is changing. A year ago, he remained cloistered behind the forbidding walls of Lutyens Delhi. He spoke very rarely and when he spoke, he impressed rarely. Now, he is beginning to peep out of the shadows of silence and elite privilege. He has assumed responsibility of the Congress and is being seen as its best choice for PM candidate, with a lot of backing and a prestigious "Gandhi" surname. He has introduced many systematic changes in the Congress but we still haven't seen or heard enough of him, but the very fact that he is now willing to take public positions on a range of issues from the Lokpal bill to Article 377 is a step in the right direction. It maybe too late to save the Congress from electoral defeat but at least the Congress's heir apparent is beginning to realize that politics is more than just occasionally rolling up your sleeves. This is the second positive sign. The Congress finally has a face other than the Digvijaya Singh and Manmohan Singh.
Then, there is the Arvind Kejriwal factor which has crept into the national mindspace in the last 4 months, especially since Novemeber 2013. As the joke goes, AAP is the fastest growing start-up formed by an IITian. We can dismiss the Aam Admi party as a Delhi phenomenon, criticise its populist rhetoric, but the truth is, it has awakened dormant social forces and reminded us that there is more to politics than the brazen use of money and muscle power. Though even the AAP is not all that clean, it still has garnered a large support base and the AAP claims that on the 1st day of the New Year, it got Rs.34 lakhs in donations, which is a huge amount for such a new party.  The AAP phenomenon is surely attracting a large section of the society. Autowalas say that they love Kejriwal and when I asked one autowallah why does he think AAP is the only good party around, his answer was: "Sir, woh hamari baat karta hai". We don't know whether he will succeed in power, but by taking up the challenge of running Delhi with Congress support, Kejriwal too is slowly realising that excessive self-righteousness needs to give way to the politics of pragmatism. Its again a positive sign.
While politics throws up these positive signals, so is civil society. The candlelight vigils are giving way to more meaningful attempts at social change. Activists are now working to influence policy, engaging with the system rather than rejecting it. Whether it be the right to education, the debate over sexual harassment laws at the workplace or gay rights, the need for a cleaner environment or for better healthcare, there is enough anecdotal evidence to suggest that there is space for a healthy dialogue that seeks to break away from stated positions. That even without any street rage, the government has chosen to review the regressive Article 377 judgement is in itself proof that conventional walls are breaking down and government ignorance is being replaced by government activism (maybe because 2014 elections are near). Even the Supreme Court has often played an important role in nudging the system to change. A good example is the judicial intervention in electoral laws that now prevents convicted MPs from contesting elections, or even the NOTA judgement.
Even the media, for all the stage-managed noise and misplaced hysteria, has played its part in holding those in lofty positions accountable. It has brought most of the lakhs of crores scams into the spotlight and has forced accountability into Indian politics, for the first time since 1947.
This is not to suggest that we live in a completely new India. Every now and then, the old order creeps through. There are still enough sleazebag politicians and crony capitalists, corrupted judges and compromised media who will continue to preserve their self-interests and perpetuate an unequal society. And yet, every time you are pushed to the edge of despair, the sunshine of hope filters through.
2014 is the year India is changing. We are going to see a new picture of India, the 2014 Picture of India. We are going to see a more active, more involved and a more political India. An India which will rise above caste, creed and religion and demand change. The chorus for change is growing louder. People want development over freebies, justice over recognition and politics over 'dalaali'. This 2014, are you "Being Political"?